River Report and New Cabin Rental in Canyon!
May 22, 2017
Well, the past 2 warm sunny days we had are catching up with us... The river is on the rise, and likely going to be tougher fishing through Wednesday based on the flow prediction chart.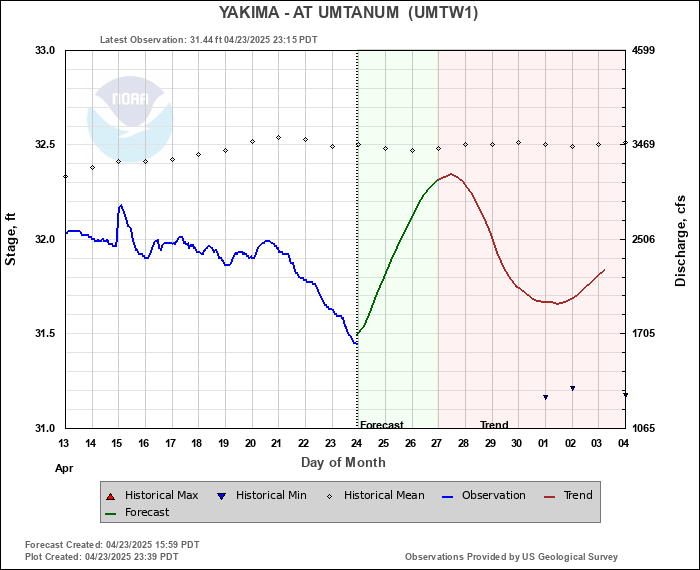 That's too bad, because the Caddis hatch is cranking, and we have seen and caught some very nice fish eating dries in the evening. If there is any pot of gold under this rainbow, it may be that the river will begin dropping Wednesday, and we're expecting it to be in great shape for the extended Memorial Day weekend. If you're still looking for a place to go for the Holiday, come on over and see us! It's a sure bet that the campgrounds will all fill up along with the lodge, however we now are managing a cabin that's available to rent right across the highway from the railroad trestle bridge below Ringer. Here's the view from the back deck:
And the kitchen is very well appointed!
All 3 bedrooms have comfortable double beds in them:
And you don't have to miss the NBA Finals if the game is on:
An overhaul of this 3 bedroom 3 bathroom cabin has just been completed, and it turned out really nice! In addition to the double bed in each room, there are also 2 sofa sleepers. The location of this place is conveniently located just minutes from Big Horn and Ringer. The nightly rental rate for the weekend is $595 and good for up to 6 guests ( 2 night minimum required). Of course there is plenty of room to maneuver and park a drift boat trailer (or three!) out front. The cabin is pet friendly for a $75.00 per stay cleaning fee. If you'd like to be the first nightly guests to stay here this upcoming weekend, give Niki a call at 509-933-2300. We will be posting a complete calendar over the next few weeks to plan your stays through the rest of the summer!